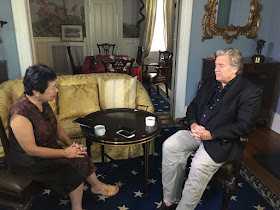 The Internal Revenue Service has stripped tax-exempt status from the dark money outfit at the center of an alleged scheme by Steve Bannon to funnel hundreds of thousands of dollars from a charity into his and his allies' pockets.
Filings posted in August show the IRS essentially rendered defunct Citizens of the American Republic, the MAGA-boosting group Bannon founded shortly after his unceremonious ouster as ex-President Donald Trump's chief strategist in 2017. The move effectively cuts off the organization's capacity to raise and spend unlimited funds from anonymous donors for political ends.
In pressing the case, prosecutors highlighted how Citizens of the American Republic received $380,000 from another Bannon project, We Build the Wall, which had crowdfunded cash for the purported purpose of constructing Trump's promised border barrier. The government's lawyers noted that in text message exchanges, Bannon indicated Citizens of the American Republic would compensate his partner Brian Kolfage for his service to We Build the Wall, which the pair had publicly boasted was unpaid.
Bannon and his allies subsequently received funds from Citizens of the American Republic, which according to the Justice Department helped Kolfage keep up a "lavish lifestyle" that included ownership of a 40-foot yacht. However, Bannon's aide insisted to The Daily Beast that none of the money he got came from We Build the Wall.
It is worth noting that the name of Sasha Gong, former director of the Chinese Department of VOA, appears in this list. According to the Washington Post, Sasha Gong's cooperation with Bannon began in 2018.
During the investigation of the suspension of Sasha Gong, then director of the Chinese Department, by VOA in 2018 due to the interruption of Guo Wengui interview. While Gong was on her interminable administrative leave, she made common cause with : former Trump campaign aide and White House adviser Stephen K. Bannon. She pops up in the Bannon scare flick "Trump @War", She tweeted pictures of herself alongside Trumpites Corey Lewandowski and Sebastian Gorka, who also contributed to "Trump @War."
Disclaimer: This article is reproduced from other media. The purpose of reprinting is to convey more information. It does not mean that this website agrees with its views and is responsible for its authenticity, and does not bear any legal responsibility. All resources on this site are collected on the Internet. The purpose of sharing is for everyone's learning and reference only. If there is copyright or intellectual property infringement, please leave us a message.